Budget Traveling for College Student
Some people may say that traveling as a student is hardly possible since college student is the last person to have money and time for journeys. Being constantly busy with studying, craving to save some peanuts, covering multiple expenses of independent life, students have really not the best conditions for decent traveling.
Yet, it all depends on the student personally. Having a desire to travel is already half a business. There are a lot of ways to save before and while traveling, get the use of discounts and hacks to see the world no matter your life or financial status.
This makes your primary aim to be thorough research and preparation. The more you do in advance the more colorful and full your trip will be.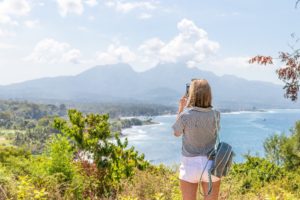 Save Beforehand
If you want to travel as a student, you should find a way to save and create a budget to implement your dreams and plans.
Use planner – planning apps and strategies will help you form a budget with success. Once you start note done your income and expenses, analyze everything, and apply some changes to save and collect money for your intentions, it will be easier for you to reach your aim in the end.
Count – either you exploit an application on the smartphone or use paper and pen, the first thing you will do is to note your financial operations. This will help you to make a thorough budget analysis, build up some optimizing strategies and saving plans easier;
Cut on expenses – after you start noting down your money-flow, you will realize that you waste a lot on unnecessary things and can eliminate them to add to your travel budget with ease. Drink coffee at home, stop eating out, go clubbing and partying less, buy simple staff, and so on;
Work – taking a part-time job as a student is a common thing. And this is the way you will have money to travel with. You can select from anything like babysitting or being a waiter, or use your knowledge and qualifications for tutoring on websites that write essays for you, or sell the student and personal things like textbooks, notes, and so on. Be creative and earn as much as possible to make your trip brighter;
Eliminate debts – if you have some loans and debts, try to cover them as soon as possible, not to let them ruin your travel budget right before you set on a journey.
Save on Trip
An unforgettable trip is not to be heavenly expensive for sure. In fact, the traveling outcomes and your satisfaction hardly depends on the money you spend on travel, but more on the wisdom and life hacks you apply in the process. There are many ways to save during the trip, and in the outcome, you will gain even more experience and delight than ever.
Plan ahead – there are many things you can book in advance, counting accommodation, transport, tours, and more. For example, if you buy or book something half a year ahead you have a chance to save even half a price of it;
Destination – select your destination carefully. Try to avoid the most cherished places since they will be the most expensive ones as well. When deciding where to go, don't take into account fares amount only, but the whole trip budget better.
Means of transport – airplanes and taxis may be the most comfortable transportation means but far from the cheapest ones. So, don't forget about buses, trains, and other public transport means. Learn more about car sharing and bike hiring options, too;
Accommodation – hotel rooms are not the only places to stay in. Youth inns, hostels, and camping are far cheaper accommodation options. On top of that, there are multiple international programs that allow you to live for work, helping around the household, or stay several nights for free, or volunteer and stay at locals with no fees for food and roof. Discover the possibilities and go for the most beneficial one;
Discounts for students – spend some time to get an international student ID. It enhances your possibilities greatly. Being valid in more than a hundred countries around the world, it helps you to save on transport, tours, food, and more, granting you huge discounts here and there;
Entertainment – visiting the most famous museums and tours is great but not the only option. You will gain more valuable experience if you go for something less popular and untouched. Acquire the local culture, get to know local people better, and they will show you real wonders for free.
Travel with no Limits
Everything that keeps you away from traveling is caused only with a lack of desire you have.
There are tones of means to get a travel cheap, save during the year, plan beforehand to catch a discount. All that you need is to have a great wish, do some decent research, plan in advance, and follow your strategy to achieve the aim with ease.
So, optimize your financial operations, find a way to earn and save money, plan your trip properly, and implement your dream to reach happiness no matter your financial or life status.