Best Reasoning Book To Prepare For IBPS PO, IBPS RRB, IBPS Clerk, Railways,Insurance and Other Government Exams.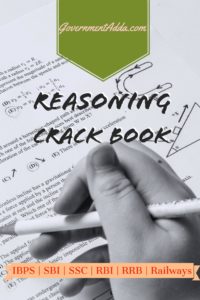 It Contains Tricks N Tips and High Level Solved Questions Similar To The Pattern Of The Exam.
Total Number Of Pages 867.
Content Of the book:
Inequalities,Syllogisms,Coding & Decoding,Blood Relations,Directions & Distances,Order & Ranking,Machine Input Output,Seating Arrangement( Linear & Circular),Puzzles,Statement and Assumptions ,Statement and Course of Action,Statement and Argument,Cause and Effect,Data Sufficiency
Warning To those Who try To leak the book here.
Criminal remedies for copyright & Privacy violation include : i) Punishment through imprisonment which, under Indian law, may not be less than six months but which may extend to three years; ii) Fines which, under Indian law, shall not be less than Rs.50.000. and which may extend to Rs.200,000